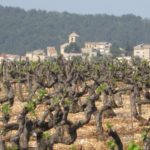 "Vinsobres or sober wine, drink it soberly": this was the motto of Monseigneur de Suarès (bishop of Vaison and a staunch fan of these wines) in 1633, describing this Cru from Drôme Provençal. Actually, the name probably originates from the Latin words "vin sobris" or "vin sobrio" meaning "wine and work". Or perhaps it comes from the pre-Celtic vintio (height), and the suffix briga (mountain)?
Regardless of the etymology of its name, the tiny commune has a long history of grape growing and wine making. That history and the unique terroir of Vinsobres was recognized in 2006 as its own appellation, right up there with Chateauneuf-du-Pape, Gigondas, Vaquerays and the rest of the famed Crus of the Rhone Valley. Located at the northern end of the Cotes du Rhone, at a higher elevation (300m) than most vineyards in the area, the wines from here are often more elegant, less ponderous than their more esteemed neighbors.
The husband and wife team of Phillipe and Valerie Chaume-Arnaud grow the grapes and make the wines, respectively. They have been organically farming their vines since 2003 and moved towards a biodynamic approach in 2004. The wines are a model of subtlety and elegance: rounded, velvety, and complex.
This is their flagship wine, made of Grenache, Syrah, Cinsault and Mourvedre. Picked at perfect ripeness, the wine sees no oak aging, rather its raised in concrete tank. The resulting wine is full and rich, balanced and lively, with the fruit and herbal aromas and flavors in full bloom. This is a great wine for a variety of foods, with enough weight to stand up to steaks and roasts and the polish and verve to work with chicken, pork or duck.
Regular price $24.99
Sale price $19.99