Domaine Delalex 'Marin', Vin de Savoie  2014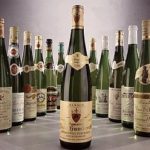 Regular Price $22.99
Sale Price $17.99
The wine region of Savoie is located in the foothills of the Alps. The Delalex brothers, Samuel and Benoit, are among the very few trying to make wine at the highest level in the Chablais – along the Lac Léman, on the French side of the lake. The grape here is Chasselas, which is, frankly, not well-known for making exceptional wines. However in the hands of Samuel and Benoit, the grape is transformed in something quite unique. Crisp and precise, with sharp acidity, the wine unfolds gracefully showing floral and stone fruit aromas. Richer than one would expect, the same flavors are kissed by honey and minerality. Really, this wine is a delight!
Rudi Pichler 'Federspiel' Grüner Veltliner, Wachau 2015
Regular Price $24.99
Sale price $19.99
While the tradition of wine-growing here dates back to the time when the Romans had settled in the Wachau, the first mentioning of the Wachau was in a Carolingian document in 830 A.D. Grüner Veltliner is the signature grape of Austria and produces a crisp and dry white wine with savory aromas, grassy, citrus & herbal flavors, and bright acidity. The Pichler family has produced wine in Wösendorf since 1731. In 1997, Rudi III took over the winery and has since expanded the vineyards. Uniquely, in the Vinea Wachau (an association,of local winemakers determined to maintain uncompromising standards of quality, purity and tradition) wine are designated by quality standards (Steinfeder, Federspiel and Smaragd) rather than vineyard sites. 'Federspiel' indicates a dry wine between 11.5 and 12.5% alcohol.
Leitz Riesling  'Eins Zwei Dry' Trocken, Rheingau 2015
Regular Price $19.99
Sale Price $15.99
Another dry Riesling from Germany, the land of dry (and a few sweet) Riesling. Crisp and refreshing with apple, apricot and lime notes, there also exists a suggestion of river stones. The vibrant citrus acidity finishes the wine delightfully and leave
s you wanting more. It works well with smoked fish, and spicy Asian flavors or as an aperitif with anything.
Albert Mann 'Rosenberg' Pinot Gris, Alsace 2014
Regular Price $28.99
Sale price $22.99
Pinot Grigio and Pinot Gris are, genetically, the same grapes. However, this Pinot Gris (typical of Alsatian Pinot Gris) is nothing like its Italian twin. Its ripe, rich and bold, structured and dense. Its loaded with creamy pear and lemon curd, with bold acidity to allow it to stand up to roasted meats, game and poultry. Dare I say…a white wine for a red wine drinker.
Tissot 'Mataret' Mondeuse, Bugey 2013
Regular Price $24.99
Sale price $19.99
Young Thierry Tissot returned home to the family estate in 2001, determined to make high quality wines. He reclaimed a long abandoned hillside vineyard above town called Mataret and replanted it with the native grapes Mondeuse and Altesse. Fifteens years of dedication and backbreaking work has been rewarded. This wine, from his original vineyard site, illustrates the qualities of the site, vine and winemaker. Medium bodied, the wine shows great grip with tart cherry and earthy aromas and flavors. Its similarity to both Pinot Noir and Nebbiolo is notable, but, really, it's neither. It's a great wine for warm days and cool nights and will elevate everything else on the table

Pfaffl Zweigelt vom Haus, Niederosterreich 2015
Regular Price $16.99
Sale price $12.99
Zweigelt is a cross between St. Laurent and Blaufrankisch produced by Fritz Zweigelt in 1922, and is easily the most commonly planted red grape variety in Austria. This early ripener is also the most commonly consumed, everyday red wine in the country. The wine, called 'Zweigelt from the House' is simple and fresh and easy to enjoy. Dark cherry fruit wrapped in smooth tannins, this is a wine that may take you from your comfort zone…